We recently had a call from a couple who bought a house in Loughor, South Wales which was riddled with damp problems. This is no problem for Paul's Plastering. The couple were due to go to France and were worried about the issue with their new property. While the family were away on holiday, we were authorised to sort the issue finally for them.
The property had oak flooring, which we had to preserve and not mark while sorting the damp issues. The team at Pauls Plastering ensured that all the oak flooring was covered to make sure that there was no damage caused to the flooring, our team go the extra mile to make sure care and attention is given to your property.
Please see below the damp images within the property: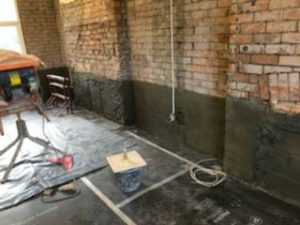 Old Plastering Removed. Damp Treatment On Walls
New Plaster On Walls After Damp Treatment
Completed Service. Room Damp Proofed & Oak Flooring Preserved.
If you're experiencing damp issues – contact Paul's Plastering on 07915 057 457. We will be happy to give you an estimated price and advice on how to finally remove any damp issues from your home.