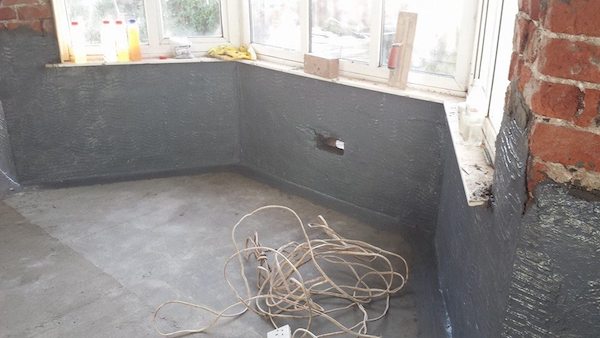 Damp Proofing
Many houses suffer with damp and mould due to poor ventilation throughout the house. Moisture is the main cause of mould growth. If your home has a moisture problem in your home, Paul's Plastering can help.
Paul's Plastering are a well established Llanelli company trading successfully for over 20 years. Paul's Plastering specialise in removing rising damp issues in properties, woodworm, dry rot, removing old and damp cavity wall insulation.
Cavity Wall Insulation Removal
Some properties have cavity wall insulation which doesn't allow the building to breath, this then doesn't give the property good airflow to circulate. This can cause damp issues in some homes. There are several types of cavity wall insulation – 1) white wool 2) polystyrene balls 3) rock wool.
The team at Paul's Plastering use an optic camera which can be inserted into the cavity of the walls, by using this camera we can deduce if the cavity wall insulation needs to be removed. If the insulation does need to be removed, the team use a compressor to loosen the insulation, we then suck out any loose fragments. After cleaning out the cavity, we can allow the property to breath as its meant to for proper ventilation. If a cavity is clogged it can cause condensation.
CAVITY WALL INSULATION REMOVAL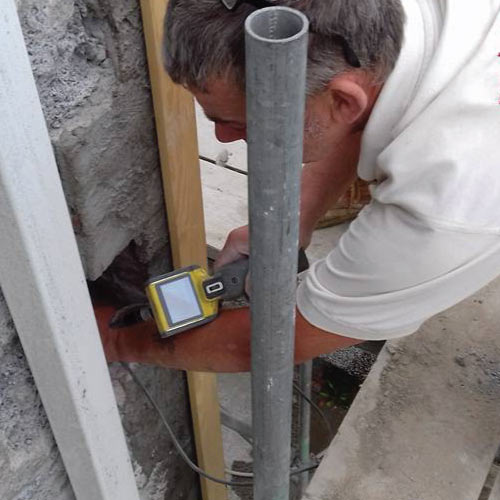 Inspection camera used to see what type of cavity wall insulation is used and how much insulation is in the cavity.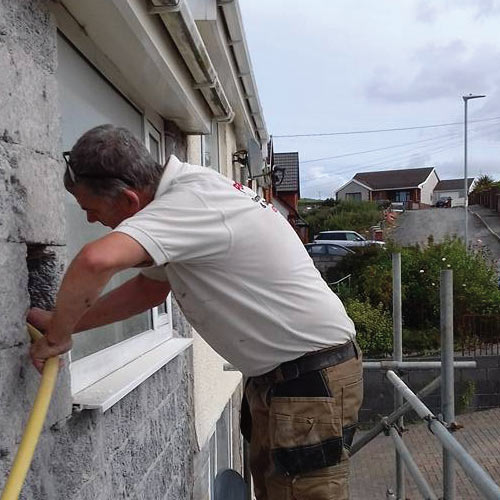 Compressor is used to loosen any insulation within the cavity, this makes the removal process easier. The compressor forces pressurised air to detach the insulation from the two walls.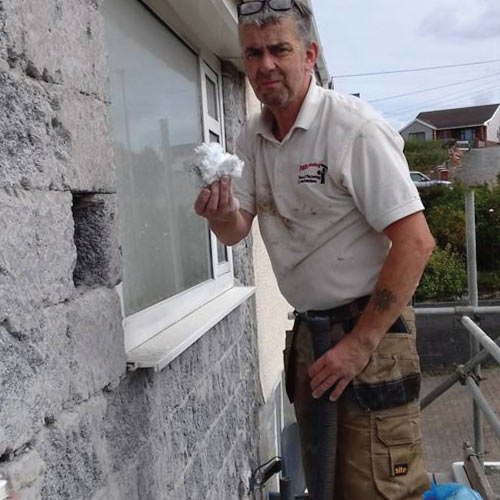 Paul's Plastering use a suction tool to suck out any loose insulation fragments. In this image you can see that the cavity wall insulation was a white wool, this can get damp and the damp cab be absorbed into both walls, this is called 'bridging'.
Paul's Plastering are specialists in removing rising damp, woodworm and dry rot, including lifting of floorboards to inspect under-floor areas.
Don't ignore any damp issues as leaving it could be more costly, contact Paul's Plastering for a free quote and advice on how to eliminate any damp. With over 20 years of experience in the business, no job is too big or too small for Paul's Plastering. We offer effective damp proofing control solutions for both commercial and domestic properties alike. Our expertise extends to all types of residential and commercial properties in Llanelli, areas of Swansea and areas of Carmarthenshire, including listed and historic buildings of any age or construction.  We offer solutions for: dry rot treatment / condensation issues / free damp surveys and free quotes / friendly and knowledgeable service.
Follow us on Facebook