We recently received a phone call from a worried new homeowner who bought a house in Llanelli which had dry rot.
Our team went to the property to inspect the issue and could easily see that the issue was dry rot. We provided a free quote to the customer and was given the job to remove the dry rot from the living room.
There was so much dry rot in the living room, that it spread to the original joists. We had to replace the original floor joists as the dry rot weakened them. Dry rot can spread from one part of the house to the next, its very important to treat the dry rot before parts of the property are too affected by dry rot.
This was the dry rot. As you can see its very visible.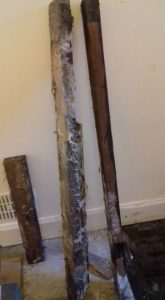 The old joists contained dry rot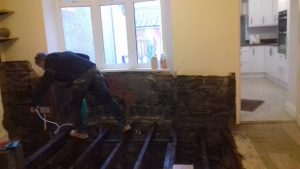 Pauls Plastering replaced the old rotten joists and began treating all around the infected area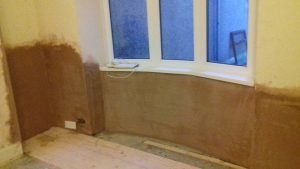 New joists fitted, new floor boards, dry rot treated with specialist anti-fungal spray and new plaster was applied to the wall.
The customer was very satisfied and couldn't believe how quickly we solved the issue. Another happy customer! If you think you're experiencing dry rot at your property, contact the team at Pauls Plastering today for a free quote: 07915 057457